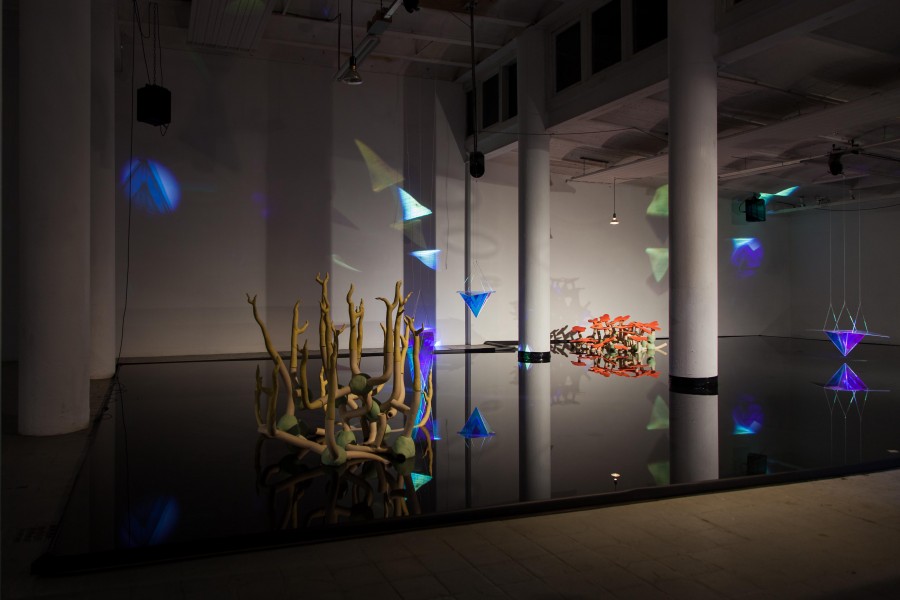 Merel Noorlander, Ana Oosting and Mirko Lazović
A saltwater basin, growing clay sculptures, mechanical pop-up installations, light and sound. Three autonomous works by three different artists move, change over time, influence one another, connect with each other and form an unexpected whole that exceed the sum of the parts. The Inside Out, The Outside In is inspired by the works of philosopher Donna Haraway, who writes about the perception of time and the possibility of Chthulucene, a state of complete symbiosis between different organisms.
'Technology is not neutral. We're inside of what we make, and it's inside of us.
We're living in a world of connections, and it matters which ones get made and unmade.'
– Donna Haraway
Opening 3 March from 7 – 10 pm
Exhibition 4 until 26 March 2017
Friday to Sunday from 1 – 6 pm
and by appointment.
Quartair Contemporary Art Initiatives
Toussaintkade 55 The Hague
www.merelnoorlander.com
www.mirkolazovic.com
www.anaoosting.nl
Program
During the period of the exhibition there will be a number of film screenings, artist talks and lectures in collaboration with Quartair:
Opening | March 3rd:
7.00 pm – entree with special drinks and bites
7.30 pm – opening talk by Martijn Verhoeven (Fine Arts coordinator KABK / scout Prix de Rome 2017)
Hoogtij March 10th:
7.00 pm – doors open
Ongoing workshop Ana Oosting
8.00 pm – performance Kirsten Heshusius
9.00 pm – (sound)performance Wen Chin Fu
Ongoing performance Ludmilla Rodrigues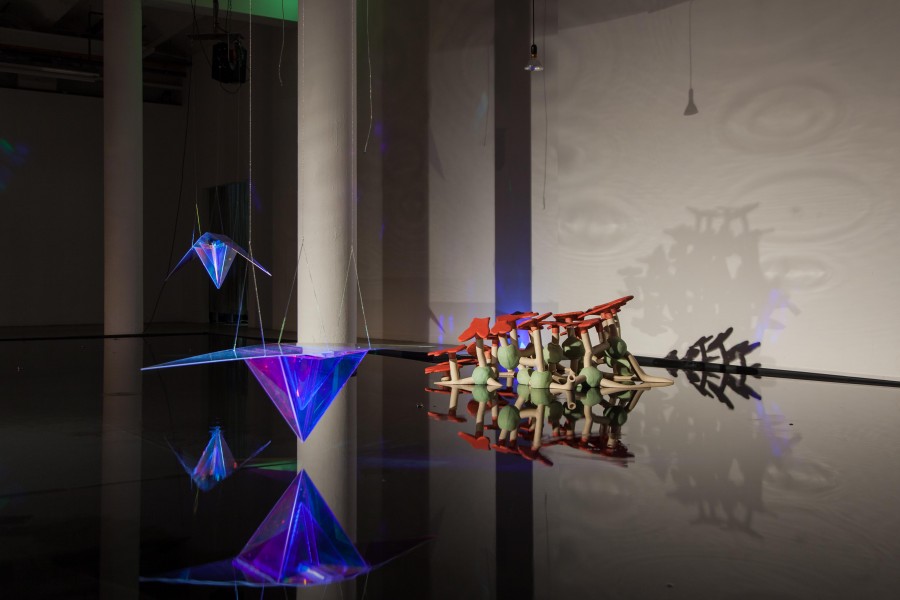 Workshop
'Making the invisible visible'
by Ana Oosting
The boundaries of being a human are not always as clear as we'd like to think. We are engaged in a symbiotic relationship with many micro organisms that we carry in and on us. Scientists have even estimated that for every 3 human cells, we have 1 non-human one; every single one of us is a planet inhabited by bacteria and fungi. Together with Ana Oosting, you can discover this hidden world, by taking samples of our own skin, saliva or maybe our phone, and growing the microbes on a nutrient base called agar. The results will be displayed during the rest of the exhibition, but you can also digitally track the growing results.
Performance
Kirsten Heshusius
Heshusius work is best described as visual poetry provoking universal thoughts about the world and existence itself. She develops her ideas in her atelier where her material research is persistent and ongoing. Within her performances she deals with body transformation and strong but minimal visual imagery often based on autobiographical events. Because the body functions as a mirror, through the transformations she provokes sentiments of recognition. Architecture and history provide a departure point placing the work in its surroundings. In her performance this evening her departure point is the symbolism of the dutch national flag. She will explore her boundaries, origin, the past and the influence of history on the present.

Performance
'Sounding Sugar'
Wen Chin Fu
Every material has its own hidden secret. By making, observing and listening we can find the entrance into this secret. The experiment started with the acoustic potential of sugar during a residency in former sugar refinery in Taiwan in 2015 together with Mariska de Groot. Tang is a percussion instruments made of crystallized sugar that was developed during this residency.

Performance
'Polytope'
Ludmila Rodrigues
Polytope is a geometric structure which behaves both as a solid and as an empty space. It is aimed at engaging the audience in a physical dialogue, where the articulation and lightness of the structure allow many different positions and dimensions. The work is an attempt to blur the border between public and performer, choreographer and dancer. Ludmila is interested in assessing our relation with the space in motion, and how the senses – focusing on tactility and proprioception – interact with the surrounding.
---
Film screening and lecture | March 17th:
7.30 pm – lecture Ruben Beentjes, literatuur wetenschapper (Dutch)
8.30 pm – film screening 'Tetsuo, the Iron Man' of Shin'ya Tsukamoto (1989) in collaboration with Cinema Quartair. Short introduction of the film by Prof. Amir Vodka (English).
Film screening and lecture | March 24th:
7.00 pm – doors open
7.30 pm – lecture Laurens Sparrius
8.00 pm – pause
8.15 pm – film screening 'Fast, Cheap & Out of Control' of Errol Morris (1997) in collaboration with Cinema Quartair.

Lecture by Laurens Sparrius, ecologist and lichenologist:
An introduction to the wonderful world of the symbiosis between fungi and algae. Combined they become something more than their single symbiont parts; a whole new organism called the lichen. Ana Oosting will give a short introduction on the relevance of symbiosis and in particular lichen to the theory of Donna Haraway and the exhibition 'The Inside Out, The Outside In'.

Film screening 'Fast, Cheap & Out of Control':
The film interweaves the stories of four obsessive men, each driven to create eccentric worlds of their dreams, all involving animals: a lion tamer who is interested in the minds of wild animals; a topiary gardener who has devoted a lifetime to painstakingly shaping bears and giraffes out of hedges and trees; a man who is fascinated with hairless mole-rats; and an M.I.T. scientist who has designed complex, autonomous robots that can crawl like bugs without specific instructions from a human controller. As the film proceeds, thematic connections between the four protagonists begin to emerge. Hilarious, sad, absurd, eerie and beautiful, "Fast, Cheap & Out of Control" is a film like no other. Starting as a darkly funny contemplation of the Sisyphus-like nature of human striving, it ultimately becomes a profoundly moving meditation on the very nature of existence.
This project was kindly supported by Stroom Den Haag, Stichting Stokroos and Gemeente Den Haag.